Z Club of NZ Newsletter April 2022
Issue no 7

From the Editor
Hi Club members
Well, it's been a bit of Deja Vu all the way around. No Events because of Covid yet once again. My wife and I have been away for the last three months, one month in Taupo where I painted my daughter's house and two months traveling the South Island. Retirement really is great. On the upside we missed the bad patch of Covid in the North Island and by continually moving we seemed to avoid it down South.
For those of you who live in the South Island, or Mainland as you might wish to call it, I envy you. You live in a very beautiful part of NZ. And those roads; many a time I wished that I had my Z with me. At some stage I will do those roads with my Z.
One of my quests while touring was to visit as many classic car Museums as possible. I encountered 8 museums in my travels, all of which I enjoyed, but more on that some other time.
Covid has once again made a mess of our events diary. We had to cancel our track day, as unfortunately we only had two confirmed entrants when we needed to commit to track hire. This required a lot of soul searching by the committee. Even another 5 entrants, would still not have been enough. We are prepared to subsidize track day to an extent, but those sorts of numbers do not work. Normally we need 30 entrants to make track day viable. We also made the decision not to run any events while Covid was in full swing. The country seems to have seen the worst of it, and we meet again early in May, when we will be able to resume planning our events.
Keep an eye open for our AGM which should be happening in May or June, as previously indicated. It would be great to see members attend and meet with your committee.
Unfortunately, with no events, there is nothing to report on, but we are well under way again. Below please find the upcoming events below.
Events 2022
Waikato – Auckland Event
Meeting Place Mercer Truck stop in car park behind McDonalds
29th May 2022 11.00am
Meet at the McDonalds car park at the back and we will road trip to Ragland for lunch and make you own way back home.
Trial and Grub
Sunday the 5th June 2022
Join us at the starting point at:
Time: 1.30pm.
Where: Stone and Water World, 218 Maura Rd, Mt Wellington
https://goo.gl/maps/TPVuzcsMHnMxbkzS9
A set route will be laid out for you to follow and we will finish for a bite to eat together.
Come join in with us, if you are unable to bring your Zed no matter just come in your daily.
Meet up with Car guys and gals share a meal and great conversation after the drive.
AGM
Sunday 19th June 2022  12.00pm (lunch time) Union Post  124 Main Highway  Ellerslie  (Function Room) Pizza Menu food and drinks own care. Please advise us if you are attending bernie@profile-int.co.nz or 022 456 0022
Shaun Moses Car Collection and BBQ
Join us on the 23rd July at 11.30 in Newton Auckland Shaun has a classic JDM car import to order business. He will have a short talk about his business, he will also be displaying his private classic JDM car collection. we will have a BBQ lunch and drinks available. Check this sight out. https://themotorhood.com/themotorhood/moses-machines More details to follow.
Check out our website for these details https://zclub.nz/
We have more events in the wings and will keep you advised
………………..
At the end of last year, I was handed a few boxes of early club paraphernalia. Included with these were some books written back in the 80's on the Z Cars. One in particular was about the design and construction of the 280ZX. If you would like to bear with me, I will review this book with you.
Datsun 280ZX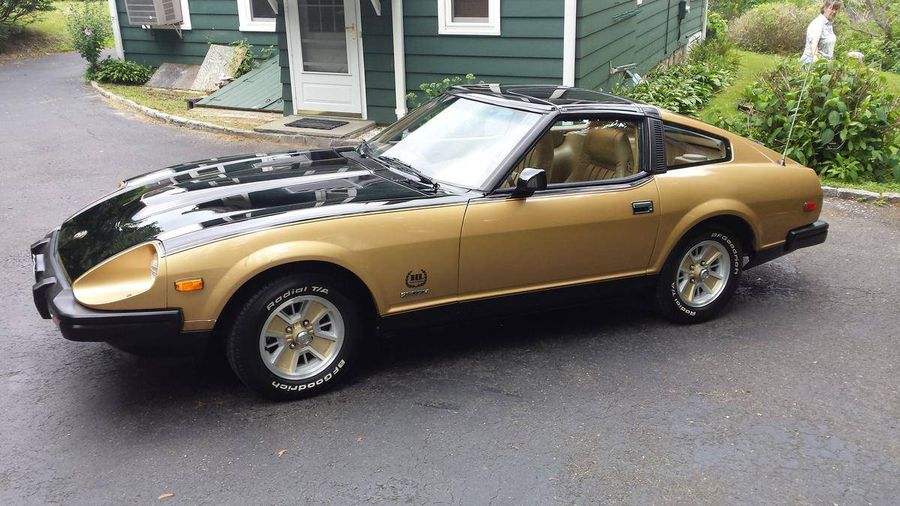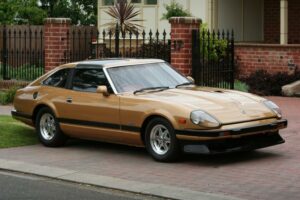 The 280ZX, also known as the S31, should not to be confused with the American 280z, which was part of the previous S30 series. The 280ZX was the introduction of the next Z model after the S30 (240/260Z) for Nissan. This car completely revised the Z range. Although it carried over the L series engine, the rest was completely new.
Locally the 280ZX seems currently to be the least sought after Z . My guess is the S30 series was such a breakthrough, and so revered, that the 280ZX had a hard time meeting expectations. This didn't mean that the 280 was by any means a lesser car, in fact a lot more work and effort went into the production of this car than the S30 series. Sales wise it turned out to be a real winner.
One might ask why the X was added to the Z nameplate. Don't quote me but I have been told that the X stood for extra. Nissan put a lot of emphasis on adding more upmarket luxury to the new car. In doing this some felt that the new Nissan Z lost some of it's sporty character, being described in some circles as a "boulevard cruiser" To be fair Nissan's market research showed that this is what the customer was asking for. This name, with the X, remained right through to the 300 range, but with the advent of the 350Z it was removed, as Nissan wanted the new car to get back to it's roots and once again be a true sports car.
Nissan did a lot of research before producing the 280ZX. Below is what they determined as the main characteristics to incorporate into this model.
Energy and resource conservation must be a prime consideration
Safety and environmental consideration to be a priority
Human engineering must achieve optimum comfort and drivability
The owners of this car must feel that it was made for them.
Nissan knew that the S30 would be a hard act to follow, the 280 had to do everything better- handling, performance and comfort.
Styling
This new model had to look better than the previous model and a lot of consideration was given to aerodynamics. Drag, Lift and Yaw needed to be carefully looked at. Drag was described as the effort required to push the car through the air. Lift was the air flow that moved under and over the car. We all know that the S30 suffered from lift at higher speeds and needed a lower spoiler fitted when intended for high-speed cruising. Yaw is the effect that side winds have on a car. With these in mind Nissan's designers went to work.
Below are some of the early designs, that came from the preliminary drawings.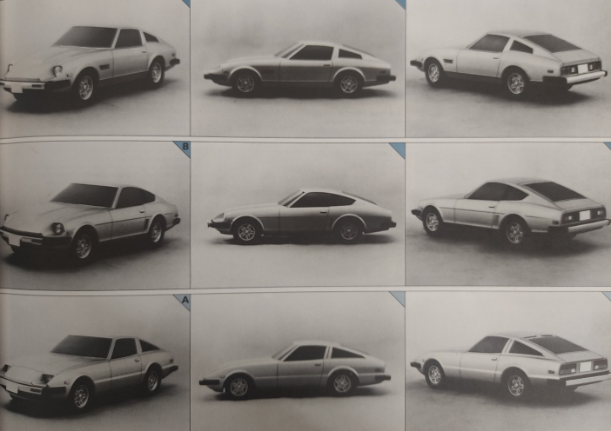 .
Below are the full scale clay models that were produced, noting that there were a number of 1/5th scale models also produced that didn't make the final cut. You will note the two final prototype images. As you can see, Nissan had kept the long nose design although the driver did sit 85mm further forward in this model. The rear panel was also pushed further back to give better rear end crash protection. You will note that the 2+2 had a much different quarter window, done to create greater visibility for rear passengers.The roof line rake was changed so that there was added head room for passengers. 13 exterior colours were offered for this car.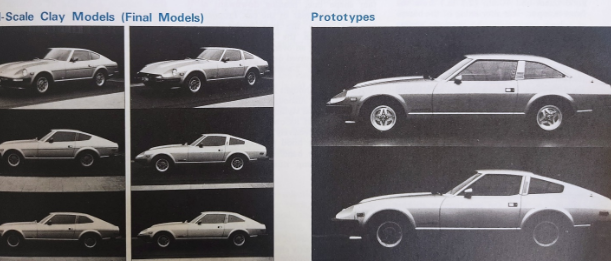 Interior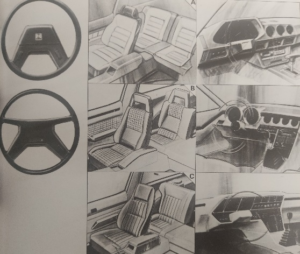 No planning on the interior was done until the final design had been established. One of the difficulties with sports car interior design is to provide a low stable driving position together with good forward vision through the screen. The 2 seater had the high back seats, with the 2+2 getting lower backed front seats allowing rear passengers some forward vision. For the dash design two basic concepts were established; one was for a large single instrument cluster and the other for positioning the instruments separately. The large single design eventually won out. Four interior colours were offered, beige, black, red and silver.
Drivability and Stability
When considering this element Nissan looked at the study of the driving environment, referring to not only the wheels on ground, but also the driver's field of vision, the car input factors, and different road surface inputs. This was broken down into four categories: engine position and drive train, steering, suspension, and braking. This book had a very good diagram that explained how they saw this relationship.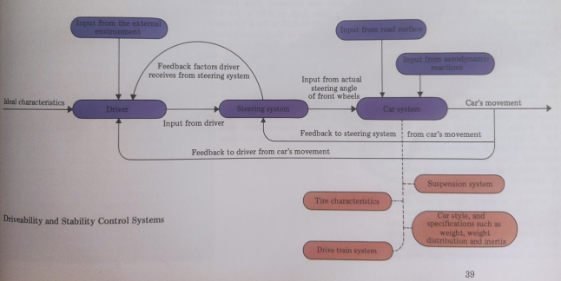 Nissan undertook to have the body's weight distribution 50/50 front to rear, to reduce air flow drag on the car, using the airstream to force the body down, to increase drivability by reexamining the cars suspension set up and to improve braking. The latter was done by improving the front disc brakes and adding discs to the rear. It is interesting to note that they relooked at mechanical layout at this stage, which involved looking at the merits of front wheel drive and also mid-engine. Front engine/ rear drive was retained as it was and still is the best compromise. Porsche owners may disagree.
Steering
Nissan adopted two types of steering control. One was rack and pinion, and the other was through a steering box. The rack and pinon was non power steering, and the ratio was raised from 18.0 to 19.6 to reduce the effort needed to turn the wheel at slow speeds. The power steering unit which worked through the steering box reduced the ratio to 16.03 which meant only 2.7 turns lock to lock compared with the manual steering's 3.5 turns lock to lock.
Front suspension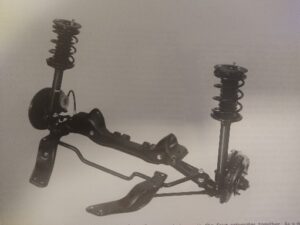 The front suspension was basically the same unit as used in the earlier S30 model. Changes were made to the coil springs and stabilizer or antiroll bar. For the front shock absorbers, the diameter of the rods was increased, reducing friction and improving smoothness. Nissan's aim was to produce a high level of comfort and good drivability. They had earlier committed to prioritise comfort, and not to sacrifice comfort for drivability. Although this sounded like a big compromise on drivability, it forced Nissan to concentrate on providing the best of both worlds. To quote Nissan: "Great improvements became possible in terms of ride comfort, less noise and reduced vibrations. The 280ZX thus drives better and has more stability than the earlier Z models. "
Rear Suspension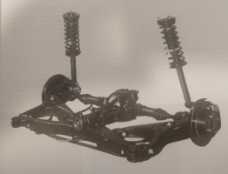 A rear suspension assembly with rubber mounts to the body and then trailing arms to the wheels allowed double rubber insulation, thereby reducing noise and vibration. The same principles were adopted for the rear, being no compromise on comfort. The result was that the car had a slight understeer characteristic, while keeping down roll when cornering, maintaining good comfort levels. A much higher viscosity oil was used in the shock absorbers, reducing friction by 38% compared with earlier models. Another quote from Nissan, "The 280ZX performs as well as the world's finest sports cars in drivability"
Power System
When configuring the engine Nissan had to consider the new emission standards being put into place. To help achieve that a computer based fuel injection system and a transistorized ignition were utilized for this car. Coupled to this were these goals: to reduce fuel consumption, high horsepower, strong torque, sensitive accelerator response, smooth revolutions with low noise and vibration levels, a tempered, easily handled power plant with smooth driving starts even when cold, superior thermal resistance, good purification of emissions and totally efficient, durable lightweight machinery.
High horsepower is of course necessary for a sports car, but it needs good torque for around town drivability. This was effectively achieved with the addition of the fuel injection and transistorized ignition. Not only did it make more power, but it also improved fuel economy. The injection systems exported to America were altered to adhere to the American emissions regulations, noting that the California cars were slightly different, with the addition of parrot type oxidizing catalytic converter and other emissions gear that resulted in less horsepower for these areas.
In regard to transmissions, a four speed was used for base models, but most models had the 5-speed in which the 5th gear was essentially an overdrive gear. The first 4 gear ratios for the 5-speed were the same as the 4-speed. An automatic was carried over from the earlier model and was a 3-speed unit with the option of manually selecting gears if desired.
Ventilation
Through repeated experiments, ventilation was greatly improved. Those of you who own the S30 can attest to the ineffectiveness of the earlier ventilation systems. I have found the best ventilation in my 260Z is to open the driver's window, otherwise it fogs up on cold wet days, even with the demister on, and gets blisteringly hot on warm days, even with fan on and vents open. Nissan aimed for 100% moisture evaporation and achieved that goal.
Noise and Vibration
Nissan dealt with this by double insulating the suspension as previously mentioned. Vibration absorbing materials were widely used throughout the car. To reduce wind noise, attention was given to all protrusions on the car to ensure that the wind was directed through and over them correctly. The intent was to trace noise to its source and to try to eliminate it.
Safety
Today safety is well incorporated into modern cars and manufacturers do their best to make their cars as safe as possible. They all want to achieve a 5-star safety rating. It sells cars. Buyers look at safety ratings when buying new cars. Although back in the 80's, safety had started to become very important, they hadn't made the advances we have today. Nissan spent a lot of time and effort to make their cars as safe as possible, but the bar sits far below todays standards.
The definition of safety at that time was really based on the integrity built into the car; how good was the car regarding handling, comfort, traction, brakes, engine dynamics, etc. These were all part of the ethos behind safety. Nissan did crash test the 280ZX and it did measure up to the standards of the day. Nissan ensured that all fuel lines and electrical cables were either covered or protected against abrasion. Flame retardant materials were widely used in the interior. They also ensured that all interior door handles, knobs and buttons would not cause harm. The dash was a soft padded type. Safety also involved making the interior comfortable on long trips to reduce human fatigue. Seatbelts of course were mandatory. They also incorporated warning devices to provide warning when systems had failed or failure was imminent, such as cooling levels, brake fluid levels, door ajar warning, stop lamp failure, battery condition, seat belt warnings
The book I have is entitled "Datsun 280ZX" and was produced by Nissan. It was written from interviews with the engineers and designers and people in research and testing facilities.
I personally feel that the Datsun 280ZX is seriously underrated, being a much better car than the 240, 260 range but is probably the less desirable Z car in regard to collectability. If someone was in the market for a Z car but has found that the 240 – 260 is now out of financial reach, you will more than likely find the 280ZX will fit your budget, and although loath to make predictions, I believe the 280ZX will have its day as well. As I watch sales of the Z series cars, I see them starting to climb. The 300's are starting gain in value, even the 350Z pricing has plateaued and I have seen a slight rise in values.
I hope this article has given you a little more insight into the Z range of Nissans.
Many thanks for your time
Bernie Kant
President Z Club of NZ